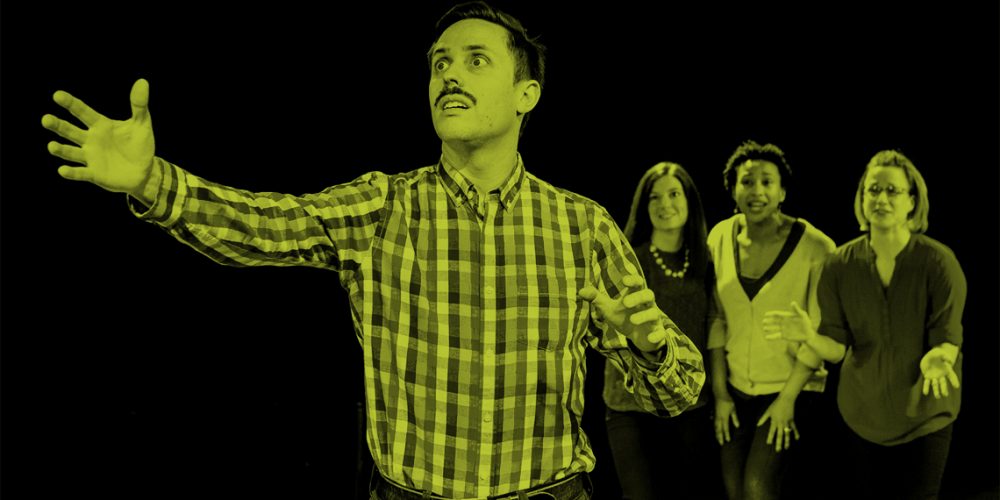 Foundations of Musical Improv with Ryan Brookshire
Discover the joy of improvising songs and the craft of musical theater.
Advanced Format: Improvised Sketch - with Ashley Siebels
Triggering Game with Em Fiske
Learn how to put your thoughts and emotions into improvised song and take your scenes to the next level! In this class you will learn the basic song structures you need to make up musicals on the spot. No need to be an experienced singer!
In this eight-week course, you'll create instant characters with emotional integrity who sing their point of view! You'll learn the two basic song structures—verse/chorus and tagline—needed to turn every song you improvise into a full-blown musical number. The class will culminate in a showcase.
Participants must be comfortable singing in public; however, prior music theater experience is not required.
ABOUT RYAN
Ryan Brookshire holds a music education degree in vocal/choral music from the University of North Carolina at Greensboro. He performed lead roles in productions of Pippin (Pippin), Tommy (Tommy), Children of Eden (Noah), and Joseph and the Amazing Technicolor Dreamcoat (Simeon); directed and arranged music for his collegiate a cappella choir (UNCG's Spartones); and continues to write original songs, primarily for guitar and voice. Ryan performs with WIT company ensemble iMusical.
He loves the classroom because it's a safe and magical place of adventure, growth, and incomparable fun. So bring your unique voice and come play in the moment with emotional honesty, surprising choices, and supportive teamwork!
Ryan has studied improv and sketch with WIT, UCB, Dojo Comedy, Chinese Menu Comedy, District Improv, and LIT. Ryan is a member of WIT company ensemble iMusical and coaches musical improv troupe Door #3. He also plays with indie projects Direct 2 Video, Bear Trap, Dayzee Chain, Fish Outta Water, SPACE QUEEN, and The Hardy Boys. He previously played with WIT Harold teams After Pie, Tiovivo, Not Great with Kids, and Blot, WIT special productions The Fourth Estate and Citizens' Watch, and indie teams Neighbors, Cake Bagel, Big Boy Nap Time, Not Even Close, and Helper Pony. Ryan teaches and coaches chronically.
Prerequisite:
Level 4: Ensemble or with permission from the Education Director
You should be comfortable singing in public. Previous musical theater is not required, but it is helpful. Please reach out to the Education Director at classes@witdc.org with any questions.