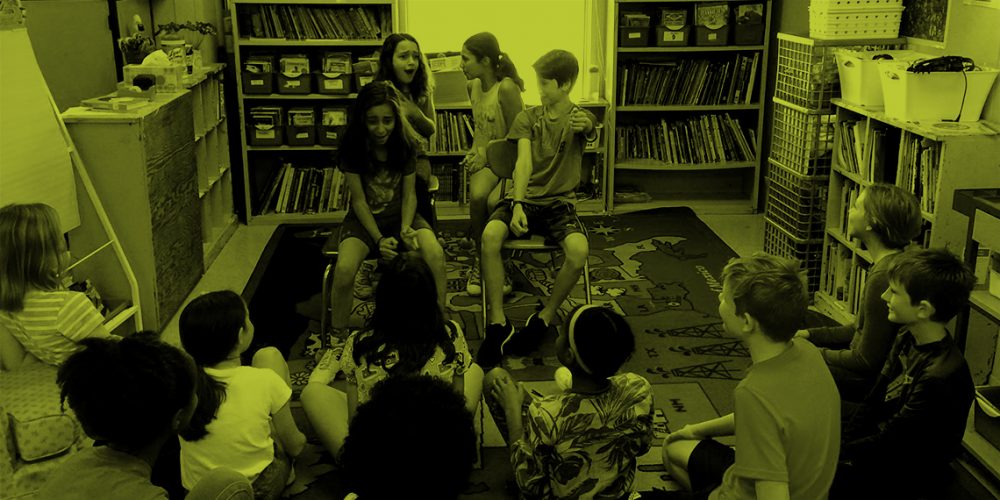 Intro to Improv Weekday Camp with Samantha Watson
Connect your kid with others of a similar age group online while engaging your imagination through improv!
Level 1: Foundations of Improv
Level 2: Scene Dynamics
Think you have a budding comedian or performer? Want your kids to remember how to have fun without a gaming console? Are your kids just looking to try something new and creative? This is the perfect way for kids to get an introduction to improv and theater while they laugh together with new friends. Designed specifically for youth in 5th through 8th grades, this week-long session will introduce them to the fun of improv online!
Kids will spend an hour and a half connecting with peers, learning comedy and games, and creating their own fun out of nothing. Improv is particularly beneficial to this age group as it builds resilience, creativity, problem solving and connection.
Class will balance learning the fundamental skills of improv, helping budding thespians build their skills, and plain old fun games and creativity. Using the principle of Yes, And kids learn to support trying new things, supporting each other's ideas.
They will build confidence in a supportive environment and learn to Yes, And others. Basic scene creation, emoting and acting will be explored. We'll play games that tap into their creativity, while developing skills that enhance listening and engage the imagination
They will be able to play these games on your own! Keep your afternoons and weekends interesting and full of laughter. Even better, you'll learn how to perform short form improv games in an online setting. Future video calls with family and friends instantly become more fun!
Children ages 10 thru 13 welcome.
Note: Get a 25% discount for siblings who want to take our other classes!
Click here to go directly to our class packages page to get a two class package. After you've completed the purchase, you will be able to register for the camp of your choosing at any time.
ABOUT SAMANTHA
Samantha loves teaching and coaching improv as much as she loves playing!
Samantha has been a parent for 13 years, has extensive experience working with children (including those with special needs) in a variety of educational settings, and loves to help kids tap into their creativity and playfulness. She focuses on helping kids support each other in playful fun ways, problem solve and create together, and get up and moving to have fun. Improv is one of the most playful things we can do, and Samantha enjoys creating a brave, safe environment, in which people feel comfortable playing and failing, but also learning.
Samantha trained at WIT, has done several workshops with other theaters, and coaches a couple of indie teams in addition to being a WIT teacher.
Prerequisite:
None! Just be ready to have a good time