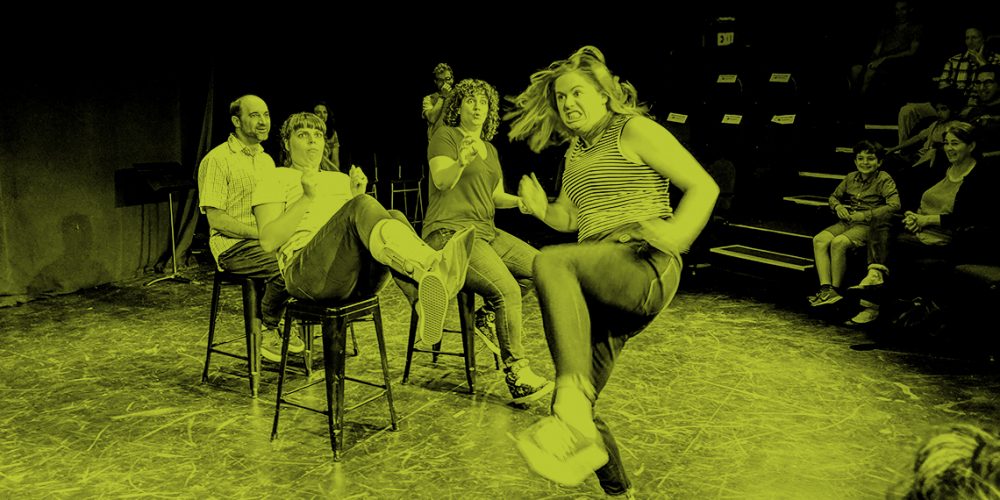 Intro to Clown for Improvisers with Tara Demmy
Discover your true comedic self!
Active Listening and Top of Scene with Jordana Mishory
Creating Three-Dimensional Characters with Jordana Mishory
You will be moving around having so much fun that your improv will start to feel effortless.
This four-week online class is an introduction to clown as well as a guide on how to use the 'clown state' in improv, sketch comedy, and theatre. Clowns are completely vulnerable and they share every feeling with their audience. The clown's humor comes out of their honest play, naivety, and commitment to their own stupidity. "Using the red nose and your body, you will discover your inner clown's rhythm, physicality, voice, and hilarious talents! We will explore clown circus acts (skilled fiascos) and 'clowns in real live' scenarios (clown doctors, clowns at the DMV, etc).
Note for participants: Wear neutral clothing you can move in (no logos), comfortable shoes. If possible, please purchase a red clown nose (you can find one here) or bring your own!
OPTIONAL: Play an instrument? Feel free to bring it. Have a special talent or skill? Feel free to bring your dancing shoes, juggling balls, book of poetry.
ABOUT TARA
Tara Demmy is a comedian, theatre artist, and teacher originally from Philadelphia. She trained in improvisation at the Upright Citizens Brigade NYC and Philly Improv Theater (PHIT) and took workshops led by Jill Bernard, Armando Diaz, Jet Eveleth, Susan Messing, and Mark Sutton in order to learn lots of improv techniques and philosophies.
Tara completed her Lecoq training at Helikos: International School of Theater Creation in Florence, Italy, where she studied movement-based theatre including commedia dell'arte, clown, and bouffon. As an instructor at Philly Improv Theater (PHIT) for the past five years, she taught long-form improvisation classes as well as workshops in red-nose clown and grotesque characters. She currently performs with physical theatre company Tribe of Fools and ManiPedi Sketch Comedy (both based in Philly). She is currently pursing her PhD in Theatre and Performance Studies at University of Maryland. tarademmy.com
Prerequisite:
Level 2: Scene Dynamics (or with permission from education director)