Improv for Business: Presentations and Public Speaking
Need to speak to a big crowd or a small team? Think of it as theater—and this is your time to shine.
Level 5: Harold
Level 1: Foundations of Improv
Improvisers are able to think on their feet and exude confidence. This workshop will help you learn the skills that improvisers employ on stage and use them to help you succeed in speaking in public, especially for high-stakes situations.
Learn to develop stage presence, create a stage picture, use your voice, and emotionally connect with your audience. You'll also use improv principles to enhance your storytelling and construct simple, effective stories that engage and influence audiences. Finally, everything may not go to plan in your presentation, so we'll help you learn to adapt and thrive when things don't go the way you plan.
WIT@Work has helped build these skills at organizations like NPR (check out their
blog post
) and with Toastmasters.
Testimonial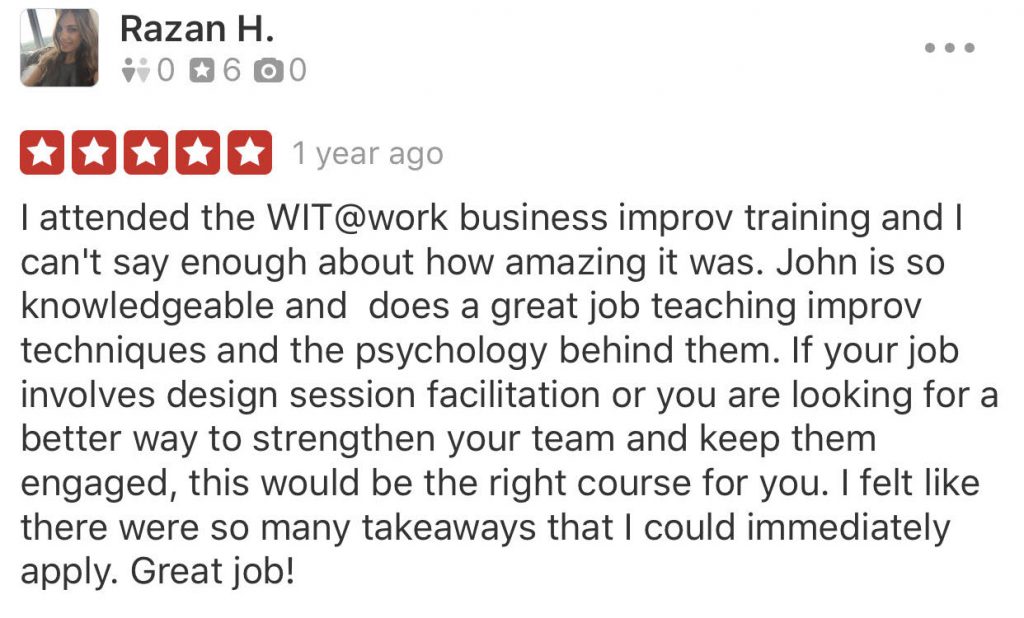 About the Instructor
John Windmueller, Ph.D. serves as the Director of WIT@Work, the corporate training and applied improv branch of Washington Improv Theater. He comes to WIT with over a decade of experience designing, delivering, and overseeing professional training and graduate education focused on communication and collaboration. His WIT@Work clients have include Deloitte, PWC, Marriott, DOJ, McDermott Will & Emery, NSA, NPR, PBS, University of Maryland, George Washington University, ACDI/VOCA, Brookings, Capital One, TD Waterhouse, World Bank, Medstar, National Institutes of Health, and the National Academy of Sciences.
In addition to his education and training background, he holds a Ph.D. in Conflict Analysis and Resolution. John was also a member of WIT's King Bee ensemble and performs in improv festivals throughout the U.S.