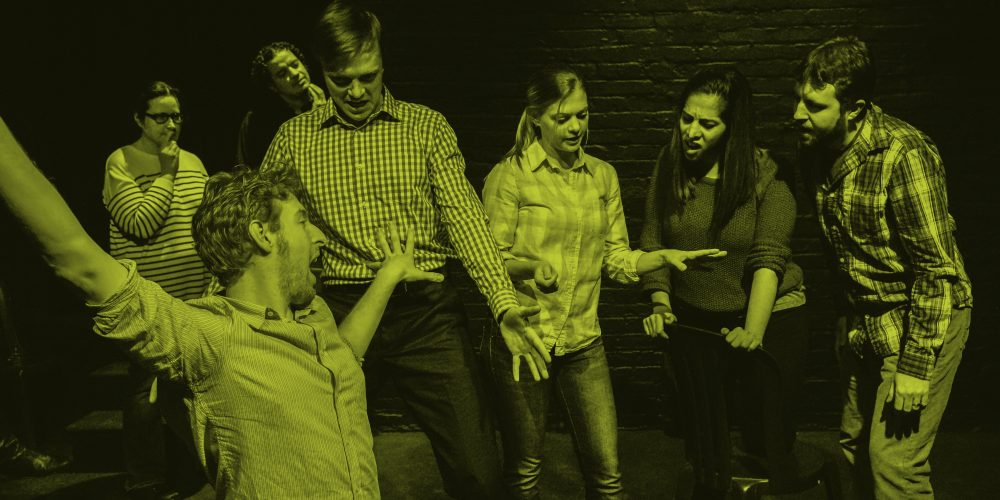 Getting Physical with Husbands of Wives – Devin Horne & Jack Novak
Join Husbands of Wives (née Dack Norne) improvisers Jack Novak & Devin Horne for a family vacation to improv world. Learn to sit quietly while exploring your environment, or else dad's gonna turn the car around.
Unf*ck Politics with Sam Bonar
Follow Your Feet with Donna Steele
Workshop participants will develop physical comedy skills through targeted exercises and direct feedback. Additionally, participants will explore tools to build an environment physically and with minimal dialogue.
ABOUT JACK
Jack started teaching improv in high school, when he started an after school improv club that is still running to this day. Since then, he has studied improv in Chicago at The Second City, The Annoyance Theatre, and One Group Mind.
He holds a degree in theatre from Northwestern University, where he was a member and director of the long-running improv/sketch comedy group Mee-Ow.
Along with improvising, Jack is a local actor, playwright, and teaching artist. In addition to teaching adult students at WIT, he has taught drama and improv to kids ages 3 to 18 through Imagination Stage and InterAct Story Theatre, among others.
ABOUT DEVIN 
Devin began doing improv in 2011 at the Peoples Improv Theater in New York City. While in New York, he performed on featured house teams at the PIT and has also appeared in national commercials, films, web projects, and onstage.  Devin currently performs with Dreamlover, a repackaged (and easier to say) version of his 2016 FIST team, Boy Meets Dawson's Slayer by the Bell.  He also previously performed with DC indie teams Press Play, Extra! Extra!, and The Lodge.  He's excited to be a part of the WIT community and work with so many talented, fun folks in the DMV region.
Prerequisite:
Level 3: Character, or permission from the Education Director