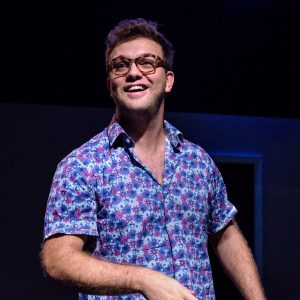 Robin Doody
Washington Improv Theater
Cat Fullerton
Mary Ann Badavi
Robin's Jewish-neurologist mother would not let him play football at a high school in Texas, so he rapped at the pep rallies. But he was not in touch enough with his sensitive side to try improv.
Until college, when Robin's friend invited him to take an improv class. That class assigned one book. Robin's friend dropped. Robin stayed. Robin can read.
After moving to Washington D.C.; Robin tried classes at WIT because he wanted to "do dope ish." Increasingly in touch with his emotions, he enjoys playing weird characters because there are few opportunities in his life to inhabit such boundless vibes.
Outside of improv, Robin used to work in politics, but bounced because he found self-worth. He can usually be found in the kitchen at a party, spittin bars; or, completely alone.
Favorite Snack
Cheese 'n' crackers
Personal Motto
Palpable Vibes.