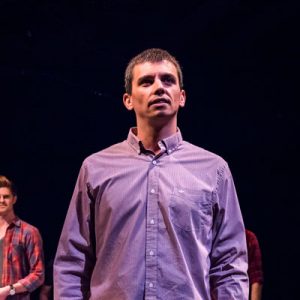 Jared Smith
Washington Improv Theater
Jessica Norman
Erick Acuña Pereda
Jared is a meteorologist who dreams to be in an improv scene that calls for him to spew several minutes of meteorological jargon in order to prove to the world that he is a real scientist.
After completing WIT's curriculum in 2013 Jared has been active in the DC indie improv scene. He is a founding member of Huggy Smalls: The Notorious H.U.G. and a tenured robesman in the secret society known as The Lodge.
Being what seems to be the only NASCAR fan in DC, one of Jared's favorite improv moments was taking all of his tailgate gear previously reserved for race track parking lots and setting it up in the tight confines of Source for an Improvapalooza show. Never have Busch Light, KanJam, and stage lighting come together so well.
Photo by Lauren Serpa
Best Dance Move
Air Guitar