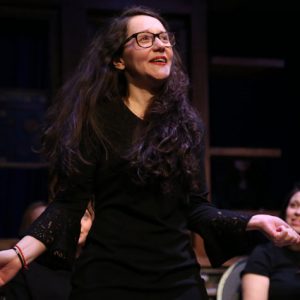 Analía Gómez Vidal
Washington Improv Theater
Julia Capizzi
Tony Lazzeroni
Annie moved from Argentina to the DMV area for #gradlife and signed up for a WIT class in the pursuit of a new hobby. Since then, her mom fears she will drop out of grad school for #improvlife.
She started volunteering as an excuse to see more shows and make friends. But helping out WIT is rewarding in and of itself every time. Her favorite times volunteering have been the POTUS Among Us 2016 run and Palooza 2016, where she discovered the fun of letting your creativity go wild.
It's the thrill of exploring emotions, trusting, and connecting with fellow players and audiences, and the blinding lights of the stage that make improv such a unique experience for her. Through taking classes, volunteering, and performing with indie teams like Menstrual Pains, Sabado Picante, and Kaleidoscope, Annie has found in improv a refuge from the stress of everyday life, and a group of friends that always have her back.
Photo by Mikail Faalasli
Personal motto
Make it happen
Best dance move
Shakira hips