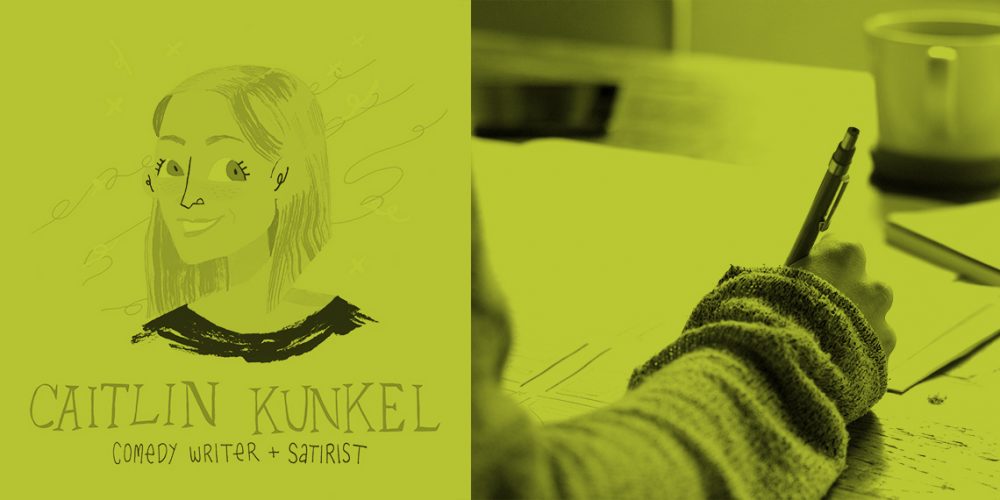 Writing Topical Satire with Caitlin Kunkel
Take your comedy writing to the next level with this hands-on workshop. You will walk out with everything you need to finish the piece that day.
Level 1: Foundations of Improv
Satire Starter Pack with Caitlin Kunkel
With all the breaking news these days, being able to come up with a form and quickly write a piece of topical satire for sites like McSweeney's can be a way to get a lot of eyes on your work. In this advanced workshop, writers who some comedy experience will learn a process for brainstorming a series of angles on a current new story. We'll break one as a class, and then split into smaller groups to work on individual pieces. We'll come back together to workshop those ideas-in-progress, with the goal being each writer leaving with a fleshed out title and several jokes to finish the piece that evening – and then submit it!
ABOUT CAITLIN
Caitlin Kunkel is a comedy writer and satirist based in NY. Her work has been featured in Shouts & Murmurs in The New Yorker, The Second City Network, McSweeney's Internet Tendency, Reductress, Public Radio International and other places across the vast internetz. She is the co-founder and editor of the comedy and satire site for female writers, The Belladonna. Caitlin created the online satire writing program for The Second City and teaches monthly classes for them. She reads her humor writing and performs improv on filthy stages all across New York, bringing great pride and wealth to her family.
Prerequisite:
Introduction to Writing Satire workshop, Satire Starter Pack workshop, or additional comedy writing experience. Due to the hands-on nature of this class, it is capped at 12 people.