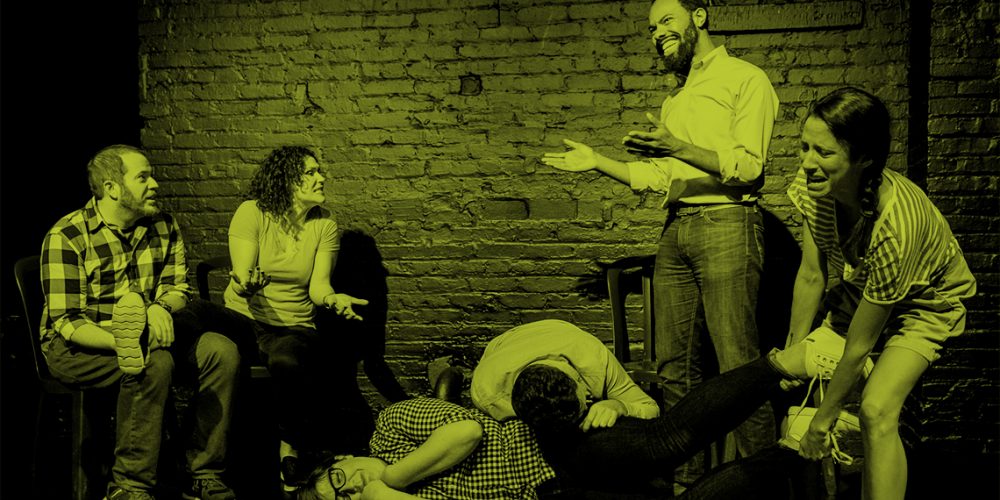 Advanced Format: Eventé
Learn a format developed by the legendary Armando Diaz to create rich, complicated characters.
Advanced Format: Narrative and Storytelling with Mark Chalfant
Level 1: Foundations of Improv
Compelling characters have backstories, hopes, flaws, families, wants, and perspectives. In improv, it takes more than adopting funny voices or physical idiosyncrasies to create an authentic character. You usually start small and try to heighten to bigger choices by the end of the show. Typically, you have to justify your character's behaviors by referencing these past experiences or relationships. But what if you could start big at the top and then show those backstories?
In this class we'll explore a format that revolves around a single, huge, life-altering event. This is the first scene. After the first scene we get to jump backwards in time and understand what led these characters to that moment.
The format focuses on creating strong characters, big choices at the top and pushing their games throughout. We then return to the event again, we see it with new eyes—informed by what we just saw in these characters' past experiences.
In the Eventé, character is king. The format, developed in the late 1990's by Armando Diaz. It's a great format to work on if you've ever been told you need more grounded characters, if you're confused by what a "character game" might be, or if you have a hard time focusing on game and instead play plot. It's also a great format to practice if you're great at all those things!
ABOUT ANNIE
Annie Barry loves the art of improv comedy because she thinks it makes people more present and better listeners. She feels that staying fully in the moment and investing in each other is the best thing we can do with our lives. She also loves the feeling of laughing and tries to do it as often as possible.
She started her training at the Upright Citizen's Brigade Theater in New York City. She performed for two years on the Lloyd/Harold team Graceland. She guest played on the Hip Hop Improv Show "Take it Personal" at the UCB East. She also was on numerous indie teams including Midnight Snack, Bartholomew, Imperfect Strangers, Lizzies, Gentlemen's Delight, and the Bird. Annie is proud member of Nox! The craziest bunch of weirdos this side of the Mason Dixon.
Prerequisite:
Permission from the Education Director after completing Level 5: Harold